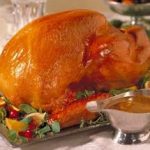 Thanksgiving is right around the corner, and with the season of fall closing in it will be celebrated with roasted turkey, homemade stuffing, pies, cakes, and desserts, and well the most fattening foods an individual can eat. This is why
Cooking with Steviva stevia sweetener
is great for keeping your "girlish figure" and warding off weight gain, however it is important that you make smart choices when it comes to the foods you consume. Here are some tips for celebrating Thanksgiving without gaining weight:
Eat baked or roasted turkey without the skin 
Skip the gravy and extra dressings on your mashed potatoes
Try mashed cauliflower for a figure friendly starch
Try Steviva's  guilt free cranberry sauce and spare excess sugar calories
Avoid alcohol, especially beer and liquor- try a glass of wine instead
Watch your portion sizes and make sure not to overeat until you sick 
Try fresh veggies and low carb salads for side dishes
Eat in moderation always, Thanksgiving is not a reason to be a glutton
Exercise a few extra days at the gym
Drink tons of water
Choose desserts sparingly
Holiday dinners call for turkey. Turkey calls for cranberry sauce. The problem with most cranberry sauces is that they are loaded with sugar. This Cabernet Cranberry sauce is incredibly beautiful, absolutely delicious and has no added sugar to give you a spike or put pounds on you. The cinnamon and red wine give it very complex flavor that is sure to please the pickiest gourmet. It is really, really easy to make and you and your guests will be happy you did.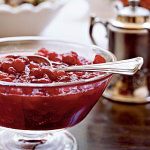 Ingredients
1 cup Steviva Brand Stevia Blend, Fructevia or 1/8 teaspoon Steviva Brand Stevia Powder
12-ounce bag of cranberries
1/2 cup cabernet wine but, any red wine will do
2 tablespoons of orange zest
1/2 cup orange juice
a pinch salt
a pinch cayenne pepper
1 cinnamon stick
Instructions
Combine the orange juice, wine, and spices .
Add a cup of Steviva Brand Stevia Blend, Fructevia or 1/8 teaspoon Steviva Brand Stevia Powder to a sauce pan.
Pour in the juice and the wine; add the zest, the cinnamon stick and those spices.
Bring to a simmer on medium heat.
When it's simmering, add the cranberries.
Continue simmering for about 10 minutes until the cranberry s auce t hicken s.
Add a 1/4 cup of cold water and turn off the heat. Don't worry if a couple berries didn't pop.
Take out the cinnamon stick; we don't want anyone chomping down on that. And as this cools it will get very thick.
Now that you know this recipe, no more canned cranberry sauces! I hope you give it a try. Enjoy!
Nutritional Facts
Total Calories: 763.04(serving size 2 tablespoons )
Calories Per Serving: 20.08
Total Fat Per Serving: 1.40g
Saturated Fat: 0.0 g
Cholesterol Per Serving : 0.0mg
Sodium Per Serving : 312.5 mg
Total Carbohydrates Per Serving : 4.5g
Dietary Fiber: 1.14
Sugars: 3.25g
Protein: 1.00g
Helpful Articles