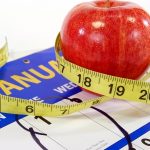 Well it is that time of year again where Americans make their New Year's resolutions to improve themselves. Needless to say, the most popular resolution made every year is to lose weight. Year after year millions of people make this their goal for the upcoming year and start their exercise programs. Unfortunately though, year after year most of the resolutions fail, only to be made again and again every year after that. Sure most people start out with a bang for the first couple of months and do well, but in the end do not finish what they start.
The major flaw that most people have in their resolution to lose that weight is that they do not have a good plan in place for success. As important as exercise is, it is only part of the battle to lose weight. If one only commits to this single part they will almost surely fail to meet their goal. The reason for this is that you are consuming the same amount of calories but need to burn them off via the exercise. Most people commit at first to exercise three times a week, but often find that their body's cannot handle the stress and impact that this causes. In a response they will cut the workouts back to two or one time a week. Needless to say, they eventually just stop going as life gets in the way or they sustain an injury. The final result is that they are still consuming the same calories, the exercise has stopped, and the fat remains.
For your resolution to stick and actually work, one must not only commit to and exercise program, but also make life style changes. You must change the inside you before you can really change the outside you. To boil it down for all, you must start to understand your own body and how it works, lives and operates. Some individuals will have you go on radical diets and cut out certain foods completely. Much like the above, this will not work either as we are all human. What one needs is a comprehensive package where they match an exercise program and food intake to their personal needs. You do not have to cut out all your favorite foods like ice cream and pizza, or have to run 10 miles a day. What you do have to do is moderate your food intake and match an appropriate exercise program to match. This is much easier to do than commit yourself to only addressing one side of the equation which you cannot maintain.
As easy as this sound, it is hard to do by yourself. Most of us are not experts in physical fitness or dietary nutrition. To help one understand how to attain the goal they will need some assistance. This assistance is available in many forms from internet guides to actual professional counseling. Needless to say, it will cost some money but in the end it is usually the best dollars you can spend so you can live a longer and happier life.
Helpful Articles