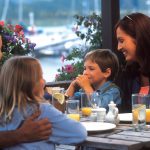 Strategies for making weight loss a collective effort
Even when only one family member has an issue with weight, it still becomes a family affair. So be proactive, and enlist your whole family! They will all benefit from healthier eating behaviors, and it will make it much easier for you to make progress for yourself.
If you are a parent, remember that your eating habits become your children's eating habits. This can be snacking on a bag of chips, or snacking on a bag of fruit or veggies; chronic dieting and being overweight, or a healthy relationship with food and a slim, healthy body.
Start by discussing the effect that having too much soda, chips, candy, cookies and ice cream around the house has on your health. This will make it easier for the entire family to understand your needs, whether they are also wanting to lose weight or not.
Afterwards, ask your family to help reduce the amount of unhealthful foods in the house, and to make them less accessible. An idea that worked for me was reading the book "The Berenstain Bears and Too Much Junk Food" to my entire family. Children of all ages will get its fun, clear message.
Having a healthy diet and getting regular exercise should be right up there with brushing your teeth and getting a good night's sleep.
Helpful Articles