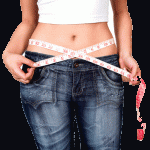 Now that you have lost it, keep it way
As you make your way along your weight loss journey, you may find you have a recurring fear: What if the weight comes back after I reach my goal?
Research shows that it's a well-founded fear because most people that lose weight regain it, and more. But there are positive steps you can take to ensure that it doesn't happen to you:
Monitor your weight so that you will be able to stop any gain early on. If you're not watchful, it can sneak up on you all too easily.
Your new, lighter body doesn't require as many calories to sustain itself, yet it's easy to slip back to your old portion sizes. Keep portion size in mind, and consider making a habit of leaving a few bites of food on your plate as a reminder.
You likely started exercising more to lose weight, and if that's the case you'll need to keep it up to maintain your weight loss.
The good news is that it doesn't have to be done all at once; it's accumulative through your day. Walk further, take the stairs, however you enjoy it.
When you reach your goal, you'll want to keep an eye on your weight, watch your portion sizes, and keep moving so that you can continue to enjoy all you've accomplished.
Keeping yourself hydrated will help keep the weight off. Don't forget to drink plenty of water! What I suggest is adding the juice of half a lemon to 32 ounces of water with a sprinkle of Steviva Brand Stevia Powder . Aside from being less than 2 carbs, you will get the health benefits that the stevia provides along with the vitamin C and electrolytes that lemon have. You can substitute limes for lemons if you get bored. Click here to order stevia powder. Now, starting working out.
This information and other information is intended for general reference purposes only and is not intended to address specific medical conditions. This information is not a substitute for professional medical advice or a medical exam. Prior to participating in any exercise program or activity, you should seek the advice of your physician or other qualified health professional. No information on this site should be used to diagnose, treat, cure or prevent any medical condition.
YOUR SPIRIT
Use Down Time to Good Advantage
"The affairs of the world will go on forever. Do not delay the practice of meditation."
-- Milarepa
In our busy schedules, we can often complain that we don't have time to meditate. But if we are sincere in our desire to go inside, we can create our own moments of stillness in the midst of our activity.
Stopped at a traffic light? Do some deep breathing. Waiting in line at the bank or grocery store? Repeat an uplifting word such as 'love' or 'peace.' Riding the bus to and from work? Value these times as an opportunity to close your eyes and go within or to say a little prayer.
"Wherever you go in the midst of movement and activity, carry your stillness within you. Then the chaotic movement around you will never overshadow your access to the reservoir of creativity, the field of pure potentiality."
-- Deepak Chopra
Helpful Articles