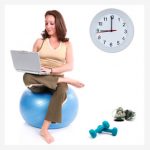 Exercising consistently is beneficial for your heart and your soul
Life seems increasingly complex these days. There are children and pets to care for, partners who need attention and errands to run. On top of that, the cell phone is ringing, the email is chiming, faxes are flying and taxes are coming due. How is a person supposed to find time to exercise?
The key is to make exercise a priority. In a survey of both active and sedentary adults, both groups had 24 hours a week available for their leisure pursuits.
 So - there is time to exercise! Workouts of 30 minutes, three times a week, add up to a mere hour and a half out of the possible 168 hours in the week. Remember, when you exercise consistently, you'll have something that's truly beneficial for your heart and your soul. Some tips to help you fit in fitness:
Pencil in the time. Plan ahead. Make an appointment with yourself and pencil your workout in your schedule. When exercise time becomes a priority, just like a meeting with your boss, you'll give it the importance that it deserves.
Remember the benefits. Most regular exercisers will tell someone who doesn't exercise: "You're just not making it a priority." Actually, the non-regular exerciser may feel that the costs of doing the activity outweigh the benefits. Remind yourself that taking a 30-minute walk before work can increase your energy level throughout the day, increase productivity and boost your mood. Isn't that worth a half-hour less sleep?
Be prepared. Lay out your exercise clothes the night before and exercise first thing in the morning.
Blend it in. Try to incorporate exercise into your daily activities - do you normally walk the dog? Put on your exercise shoes and pick up the pace a notch. Extend the walk to 20-30 minutes - that's your workout (and your dog will love it.) Other ideas: Take the stairs instead of the elevator, park the car in the far end of the parking lot and walk. Use any way you can to increase your daily activity level. It all adds up!
Make family and friends time active time. Enroll in a parent-child swim or gymnastics class; take the kids to the park and make an obstacle course for yourself out of the playground; make a date with your spouse to take short after-dinner strolls; get together with a co-worker for a quick lunch plus some brisk window shopping.
Set limits. Don't eat lunch (or play your favorite after-work video game) until you've completed your workout for the day. Linking your workout to a well-established routine will help ensure that your exercise quickly becomes a healthy habit.
Hire a coach. A good way to ensure your success as a regular exerciser is to assign someone to be your personal fitness "coach." This person could be your spouse, co-worker, a close friend or a sibling—someone who will understand your weekly fitness goals and who can nix any excuse you come up with for not achieving them. Your coach's duties include checking in with you several times a week to see how you're doing. If you miss a workout, the coach can be understanding, but should insist on a scheduled make-up session.
Be ready with Plan B. Expect obstacles and overcome them. When your favorite exercise bike is occupied at the gym, jump onto a treadmill or a rower, or start your weight training and return to the bike later. Think about trying a new piece of equipment to spice up your normal routine. This new skill will make your workout more exciting.
Create your own bonuses and incentives. A month of workouts can equal a new outfit, an upgrade in equipment, a massage, a half-hour with a personal trainer, a yoga class, or a fancy pair of cross-trainers.
Be forgiving. There is a delicate balance between a firm commitment to exercise and a rigid compulsion about keeping to a pre-determined workout schedule. By developing a flexible, healthy attitude about your exercise program - making it part of your life, not your entire life - your enthusiasm for exercising will always remain high.
Do not forget to drink a lot of water before, during and after your work out. Drinking 64 ounces of water everyday will help boost your energy. What I suggest is adding the juice of half a lemon to 32 ounces of water with a sprinkle of Steviva Brand Stevia Powder . Aside from being less than 2 carbs, you will get the health benefits that the stevia provides along with the vitamin C and electrolytes that lemon have. You can substitute limes for lemons if you get bored. Click here to order stevia powder.
Have an excellent day.

Thom King
President
Steviva Brands, Inc.
Helpful Articles