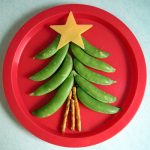 Holidays don't have to be a time when your healthy eating habits have to stop. One good way to stay on target with heart-healthy eating is the DASH Diet, developed by the National Heart, Lung, and Blood Institute. DASH, which stands for Dietary Approaches to Stop Hypertension, follows heart-healthy guidelines to limit salt or sodium, saturated fat, trans fat, and cholesterol, and focuses on increasing intake of fruits, vegetables, and fat-free or low-fat milk products. It is also rich in whole grain products, fish, poultry, and nuts. Try these tips during the holidays to stay on track with healthy eating:
•If you eat only one or two servings of vegetables per day, try adding one serving at lunch and another at dinner.
•Gradually switch to fat-free or low-fat milk and reduce servings of soda or other sweetened beverages.
•Choose whole grain foods, such as whole wheat bread or whole grain cereals to get added nutrients, such as minerals and fiber.
•When shopping, read the Nutrition Facts label on foods to find sodium content, and choose items lowest in salt or sodium.
•Start with a simple 15-minute walk during your favorite time of day and slowly build up.
•Don't worry about a slip. Start again, and be sure to celebrate successes.
Helpful Articles