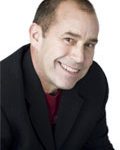 The best advice is to be cool to yourself
In the weeks to come expect a food fest of epic proportions. You will sit down at a table and begin. You will double up on the peach cobbler, stuffing, and mashed potatoes. In a few hours you will be ready for seconds. With veins bulging in your neck, beads of sweat running down your forehead and the waist band of your pants cutting into your stomach, you will swear that you will never do this again. These are called the holidays and they are here to make you fat. That's right I said it, it needed to be said. I am going to give you a few ideas how you can avoid slapping on an extra 5 -10 lbs to those hips, waist and thighs.
First of all, beating yourself up is not going to do anything but, make you feel worse. The holidays are a toughie for a lot of reasons. You are around family. Don't get me wrong family is great. I love mine to death but, as the Italians say "Fish and family are a lot like, they both stink after a couple of days". Setting all kidding aside, being around family over the holidays can be stressful. When under stress most of us have a tendency to self medicate. This can come in form of drink but, more often than not it comes to us in form of ice cream and pie. Bearing this in mind, be good to yourself, praise yourself and do good things for you. Take a break from the festivities and go outside for a walk. Control the stress with the cooling comfort you can give yourself.
Remember, all things in moderation. That will be your new mantra of merriment. If it cannot fit in the palm of your hand it is larger than what you need. Drink a lot of water and keep the faith.
Have a sensational week!


Thom King
President
[email protected]
Steviva Brands, Inc.
Helpful Articles