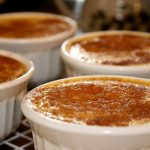 While it is important that you never skip breakfast, it is even more important to consume foods that are healthy, filling, and that won't interfere with your insulin and blood sugar levels. What is wonderful about having a natural artificial sweetener such as
stevia steviva
is that this leafy plant based sugar is acquainted with leveling blood sugar levels, suppressing hunger, making your skin radiate health, and does not metabolize in the body or include a single calorie.
Steviva Stevia can definitely sweeten your mornings, but save you the guilt and adverse effects when it comes to blood sugar changes and weight loss. It is so easy to incorporate into your favorite recipes and is not hazardous to your health such as other sugar substitutes. For a great start in the morning start out wih this tasty breakfast custard made with Natures best sweetener! 
YOUR RECIPE
No Added Sugar Low Glycemic Breakfast Custard
Serves: 4
Carbs Per Serving: 2.4 g
Prep Time:<20 minutes
Skill Level: Easy
Ingredients:
4 lg. eggs
4 oz. low fat cream cheese
1/4 c. whole milk
1/4 c. Steviva Brand Stevia Blend
1/2 tsp. cinnamon
1/8 tsp. nutmeg
1 tbsp. low fat margarine
Directions:
Mix eggs, cheese, heavy whipping cream, Steviva Brand Stevia Blend, cinnamon, nutmeg and melted butter.
Pour into a small baking dish coated with Pam. Bake at 350 for 20 to 30 minutes until knife inserted in middle comes out clean. We also recommend to use this best knife sharpener when you have work in the kitchen.
Here is our list with the best adrenal supplements on the market.
Nutritional Facts
Serving Size: 1/2 cup
Total Calories: 632
Calories Per Serving: 158
Total Fat Per Serving: 37.0g
Saturated Fat: 12.0g
Cholesterol: 590.4 mg
Sodium: 544.2mg
Carbohydrates Per Serving: 4.0g
Dietary Fiber: 08g
Sugars: 11.6g
Protein: 43.5g
Helpful Articles