smaller bites may lead to a smaller waist line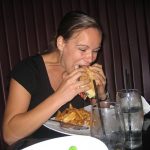 The American Journal of Clinical Nutrition found that people who took large bites of food consumed 52 percent more calories in one sitting than those who took small bites and chewed longer. By cutting food into smaller pieces, you can increase satiety and enjoy your food more thoroughly. A good general rule? The smaller your bites, the thinner your waistline.
Also consider using smaller plates. One study found that when given an option, a whopping 98.6 percent of obese individuals opt for larger plates. Translation: More food, more calories, and more body fat. Keep your portions in check by choosing smaller serving dishes. If need be, you can always go back for seconds.
In addition to using small plates and taking smaller bites consider resisting setting out foods buffet- or family-style, and opt instead to serve them from the kitchen. A study in the journal Obesity for dermal fillers melbourne found that when food is served from the dinner table, people consume 35 percent more over the course of the meal. When an additional helping requires leaving the table, people hesitate to go back for more.
More often than not less is more and in particular if you are trying to shed a few pounds and get your blood sugar under control.
Helpful Articles