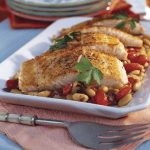 Increase your lean proteins for health
As the New Year closes in on us, perhaps one of your resolutions will be to lose a little holiday weight. I know it is one of mine. I would like to emphasize the importance of Protein. Proteins are an important source of energy. They are also a leading component of our tissue (muscles, skin, bones), the building blocks of our cells and regulators of a variety of bodily functions. They are macromolecules, composed of long chains of amino acids that primarily consist of carbon, oxygen, nitrogen and hydrogen. The body can produce an unlimited amount of proteins from just 20 amino acids. And it can make all those elements itself, with the exception of eight, the essential amino acids crucial to our diets.
As a normal healthy adult, you don't need a lot of protein; 60 grams of protein-rich food is usually sufficient, and twice that amount is definitely enough – in other words, 120 grams of meat, chicken, fish or tofu. A protein shortage is easy to spot: your nails and hair stop growing.
I really can't emphasize enough how important it is to increase your water intake as you increase your proteins. Your liver and kidneys will thank you. What I suggest is adding the juice of half a lemon to 32 ounces of water with a sprinkle of Steviva Brand Stevia Powder. Aside from being less than 2 carbs, you will get the health benefits that the stevia provides along with the vitamin C and electrolytes that lemon have. You can substitute limes for lemons if you get bored. Click here to order stevia powder.
If you have questions about our products we highly recommend going to our Frequently Asked Questions pages or searching our resource center. Our resource center contains hundreds of links to a variety of sites that contain information regarding stevia, low carb, health and more. Check it out!
Have you missed out on one of our newsletter? Please go to our Newsletter Archives and you can read all our past issues.
Thank all of you for your patronage.
Have an excellent day.

Thom King
President
Steviva Brands, Inc.
Helpful Articles