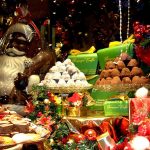 Perhaps you are considering giving the gift that will keep on giving. I am talking about cookies, fudge, chocolates or candy as holiday gifts. Don't sabotage your loved ones. Show them you care about their health and well being.
If you give gifts of high calorie sugar loaded foods to friends and family, I ask that you rethink this. Instead consider giving a gift that will help them become healthier. There are enough tempting treats during the holidays -- at the office, at parties, in the kitchen -- we don't need to add to them; nor to waistlines.
I've always been a fan of giving high-quality balsamic vinegar and extra virgin olive oil. Wrap them with a pair of wooden salad prongs and you have a beautiful gift.
Or instead of sugar loaded foods, give a healthy-eating recipe book or magazine. A slow cooker, rice cooker, or steamer is always a great gift, especially for a busy family that needs to save time in the kitchen. You can even bake your loved ones sugar free treats like the one below:
Low Carb Sugar Free Coconut Chocolate Fudge
Serves: 8
Carbs Per Serving: 3g
Prep Time:<10 minutes
Ingredients:
2 cups Steviva Brand Stevia Blend
3 tbs sugar free cocoa
1/2 cup butter
1/4 cup heavy cream
1/4 cup water
1 tsp vanilla
1/2 cup peanut butter
3 cups unsweetened coconut
Instructions:
Mix Steviva Brand Stevia Blend, cocoa, butter, cream & water in sauce pan.
Stirring constantly bring to rolling boil for 1 min.
Remove from heat. add peanut butter & vanilla until melted.
Stir in enough coconut until most of chocolate mixture is absorbed. Spread into PAM sprayed pan.
Chill 2-3 hours.
If you have someone who could use a little more exercise, entice them with warm winter clothes suited for walking outdoors. Then get yourself some, and invite them to go along with you!
Find a gift that will help make your loved ones a little healthier, and they'll be around a little longer for you to love.
You may even what to consider giving your loved ones Steviva Brand Stevia products as a stocking stuffer.
Helpful Articles