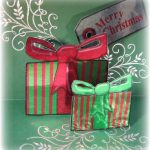 Stress and weight gain go hand in hand, perhaps not only should you watch what you eat around this time of year, but also you should keep your stress level at a minimum. Juggling shopping, planning, work, kids, a social life, and family around the holidays can create havoc in your life, inside and out. A few simple steps can help reduce your stress on Chrismas.  If you are one of the many people who have high expectations for your holiday gatherings, a few simple steps can help reduce your stress during the Holidays.
•Shop for perishable items well ahead of time and have a list ready for what you need to buy immediately before the holiday.
•If you're going to use the good silver and china, get it ready before Christmas.
•Try to get everyone to share the chores. Also, cutting some corners, for example, purchasing a pie rather than making one from scratch, is also OK.
•Don't stress over making a meal that's both tasty and healthy. Just do what you can to cut down on fat, sugar and other unhealthy ingredients, watch serving sizes and plan to eat healthy the rest of the week.
•Limit your driving. You don't have to see every family member in one day. Alternate years that you visit relatives on Christmas or celebrate with them another day.
•Take time to give thanks for what you have and encourage your children to do the same. Consider donating items to the food bank to help those who are dire straits.
Helpful Articles