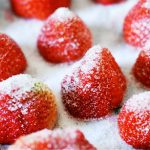 Stevia is a no calorie sweetener that has been a well kept secret for decades, at least in the US. People that consume this product on a daily basis have stated emphatically, that if you try it, you will be impressed. Not only is this sweetener 400 times sweeter than sugar, it also reported to be full of health benefits. From reports of lowering blood sugars to regulating blood pressure, this shrub has categorized as a very well kept sweet secret.
Consistent stevia consumers report that the aftertaste is often bitter and have somewhat licorice like. However, the test of stevia lasts twice as long as the regular taste of sugar and other sweetness.  In addition to a long lasting taste, because this sweetener is so concentrated, not a lot has to be used in order to sweeten and drink or recipe you are preparing.
Most critics do not understand why stevia has not been approved in the United States yet. Other than political reasons, and a error filled test conducted by the FDA, most consumers cannot comprehend this notion. Ironically, this plant's origin is Paraguay, and the Guarani Indians have used it for more than 1500 years. In fact, it has been used in countries like Japan for decades. Other countries have used this as a sweetener because if the health benefits and the fact that there are no calories, you could eat a bit more without the side effects of real sugar.
When initially looking for this supplement in America. Most people have had a difficult time locating stevia. So, remember to look in the vitamin/mineral section of most stores in order to locate it. At first, you might be alarmed by the price; however be mindful that you will be using a fraction of the amount compared to regular sugar and other sweeteners.
In summary, when you decide to try stevia, you will be impressed. You can use this sweetener to liven up your ice tea or lemonade. And unlike sugar, you will not have to use a large amount to sweeten to your taste. Additionally, you can do this without jeopardizing your blood sugars and blood pressure. Just be sure to look for stevia in the vitamin and nutrient section if shopping in the United States. It's a well kept secrets in the US, but daily consumers genuinely believe that you will be impressed!
[cetsEmbedRSS id=http://www.steviva.com/store/rss.php?type=rss&action=featuredproducts itemcount=0 itemauthor=0 itemdate=0 itemcontent=0]
Helpful Articles