an endless number of chances awaits you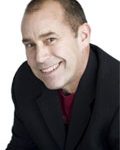 I can't even begin to tell you how many times I have tried just to fail. This applies to every part of my life; business, relationships, friendships and family. There have been times when I thought I hit the end of the road and I was out of chances. What I found is that road continued on and tomorrow was another day which brings the gift of a second chance to start anew. I am sure that what I have experienced in my life is pretty typical and I would venture to guess most people have experiences far worse and far better than mine.

If you feel that fate has dealt you defeat, be secure with the natural fact that you have another chance to start over again no matter how many times you haven't made it. The beginning is right now - today. You can start over again and try it again another way or the same way with more conviction. There is always an endless supply of chances and there always will be. Don't allow yourself to be controlled by your thoughts of self doubt. Press ahead past the committee in your head and allow your heart to filled with self respect. Another chance is just around the corner and this one might be the one you have always dreamt of. Jump on board and take it where it will, knowing that if it doesn't get you to your destination another one will be pulling up in a minute or so that just might.
We are all divine amazing creatures. We have endured so much over the past decade. We are all connected somehow. I am not sure how but, I feel it's true so it must be. We are on the cusp of great change and our second chance. This time we can get it right. We can live our lives without fear, hatred, judgment and indifference. If we let go of these limiting and divisive emotions that hold us back, suddenly the clouds clear and we can see the beauty in each one of us regardless of gender, race, faith, country of origin or whatever. We will begin to realize that we all basically want the same thing, to live in peace, love and achieve our birthright of greatness. I know you can see if you just look because I am seeing it in you. Just give it a chance.
Helpful Articles