congratulations you have made it!
First and foremost I want to congratulate TEAM STEVIVA they braved the elements of blazing sun and blistering heat for the 100 mile Tour de Cure bike race! We are so proud of them!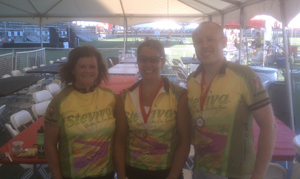 TEAM STEVIVA- Ann Wendland | Jennifer Woods | Jonathan Hall
Congratulations! You've made it!
Now the time has come for you to enter your first 'real' road race (the ones with your friends really don't count!). So now what?
Here are a few considerations to help you prepare for your exciting cycling debut.
Race Type
There are three main kinds of road races. These include a basic road race, time trial, and a criterium.
In a road race, a mass of cyclers line up at the starting line and complete a few loops around a course. For a beginner race, it's usually thirty to fifty miles.
During a time trail race, each cyclist rides the same course separately against the clock.
Lastly, a criterium is on a course less than a mile long and for a beginning racer, its run is about thirty or forty minutes long. You won't know how many laps you have done until it is posted on the lap board closer to the end of the race. Then you will know if you need to pedal faster or can cruise through to the finish line.
A time trial is a better place to start because you can experience the race without having to deal with a huge pack of cyclists. More often than not though, a road race will be on the menu.
Bike Preparation
After choosing your race, you will need to make sure your bike is in shape. It wouldn't hurt to take it to the bike shop for a once over. You'll want the tires and gears checked for sure. One of the most frustrating things is a flat! Make sure your bike has been checked from head to toe.
Race Day
Make sure you arrive early and head straight to register. It's kind of like the 'After Hours Clinic.' If you are there early, you get it out of the way. If you arrive on time, you've got a long wait ahead of you. Make sure you've got a racing license, as most races require one. You will get a number to pin to your jersey. Do it now or you might forget! Don't laugh because I've done it.
Now it's time to get warmed up. Timing here is crucial as you don't want to do it too early and then get cold. On the flip side you don't want to miss warming up and race cold. For me, I usually do some jumping jacks, go for a light jog, and then do some serious stretching. I start this routing about thirty minutes before race time and I make sure I am back at the starting line, stretching and jogging in place, 15 minutes before the start of the race. You do not want to miss the start because you are in 'Timbuktu' warming up!
Make sure you have lots of liquid in you and that you use the restroom just prior to the race.
As for strategy, it's best to stay in the top half of the pack. If there are lots of corners you'll have to slow down and speed up more often in the back of the pack.
The goal with your first race is to make it through intact. Talk with the more experienced riders and learn from them. Then practice, practice, practice! With every race, you will gain experience, confidence, and improve your cycling skills. Isn't that what it's all about?
Helpful Articles