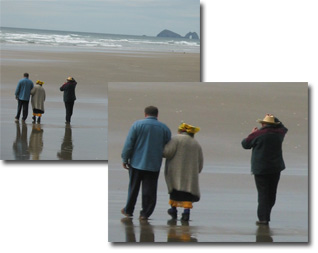 I was sitting on the beach yesterday enjoying the rich healing sea air and sunshine on my skin. The day was divine. I like to people watch and the beach is an especially good place for that. I am also an amateur photographer and any opportunity to catch people in an authentic state of bliss makes for a perfect photo opportunity for me. As I was doing my people watching and basking in the sun I happen to notice an old woman, her husband and son strolling arm in arm along the beach. It was easy to see the deep adoration which she held for her son and the loving comfort her son, a grown man, was feeling. In that moment their whole story had unfolded before and mine as well.
I suspect that the old woman was Eastern European, probably Russian, Hungarian or Polish since there are many people of Eastern European decent that have made there homes where I live. She and her husband were dressed in the typical Eastern European garb, the son was obviously Americanized in jeans and a button down dress shirt. Maybe an engineer? Nevertheless you could read in the woman's face how proud she was of her son… her son who has made a success for himself in America. She couldn't take her eyes off of him and she held his arm so tightly. It was such a sweet moment to be captured. When they say a picture is worth a thousand words this was indeed that moment and it brought tears to my eyes.
Mothers no matter who or what there son's have become always hold a special place in their hearts. I think of my mother. I am a grown man and I will like it or not always be my mothers little boy but, I do like it. About ten years ago, for my birthday my mother sent me a children's book entitled Love You Forever by Robert N. Munsch. I have always thought of myself as a little bit macho but, when reading this children's book I was bawling like a little baby. It weaves the story of a woman and her son and her enduring love for him. One of my favorite quotes in the book goes as follows:
I'll love you forever.
I'll like you for always,
As long as I'm living
My baby you'll be.
As I journey through my day today, this Mother's Day, I will think of the enduring love my mother had for me and how she had been there for me through the ups and downs, the trials and tribulations and how she had always told me that "the darkest hour is just before dawn".
While she has been gone for going on four years, thee is not a day that I don't think about her journal about her  and miss her.