Print Options:
Sugar Free, Diabetic Safe Watermelon Sorbet
Yields
5 Servings
Prep Time1 hr 30 mins
Sweet? Check. Creamy?  Check. Easy? Check? Low in calories and fat, and full of nutrients? Check! With its sweet, delicious ingredients, ease of preparation, and clean eating goodness, this Sugar Free Watermelon Sorbet recipe meets all of our requirements, and then some.
Watermelon is a wonderfully healthy fruit that contains enough water to hydrate, as well as vitamins C, A, and B6, and the lycopene often found in red, fleshy fruits. A hint of lemon juice gives a zesty edge to watermelon's sweetness, resulting in the perfect flavor combination. And the prep couldn't be easier.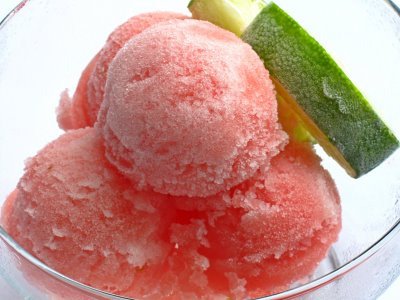 0.25
cup
Fructevia, Steviva Blend or 1/8th teaspoon of Stevia Powder
6
watermelon chunks, (4-pound watermelon), seeded
1
Combine sugar substitute and water in a medium saucepan.
2
Bring to a boil over medium-high heat, stirring to dissolve the Fructevia, Steviva Blend or Steviva Fine Powder. Reduce heat to low and simmer for 5 minutes.
3
Remove from heat and let cool to room temperature, about 45 minutes. Cover and refrigerate until chilled, about 1 hour.
4
Place watermelon and lime juice in a food processor; process until smooth. Set a sieve over a large bowl and press the puree through to remove tiny seeds. Whisk in the Fructevia, Steviva Blend or Stevia Powder syrup.
5
Pour the watermelon mixture into a shallow metal pan and freeze until ice crystals form around the edges, about 30 minutes. Stir the ice crystals into the center of the pan and return to the freezer; repeat every 20 minutes until all the liquid is frozen.
6
Serve immediately or transfer to a storage container and let harden in the freezer for 1 to 1 1/2 hours. Serve in chilled dishes.
Nutrition Facts
Serving Size 4 ounces
Servings 5
---
Amount Per Serving

% Daily Value *

Total Fat 0g

Saturated Fat 0g

Trans Fat 0g

Cholesterol 0mg

Sodium 0mg

Potassium 0mg

Net Carbohydrate 6g

2

%

Dietary Fiber 3g

12

%

Sugars 2g

Protein 0g
---
* Percent Daily Values are based on a 2,000 calorie diet. Your daily value may be higher or lower depending on your calorie needs.