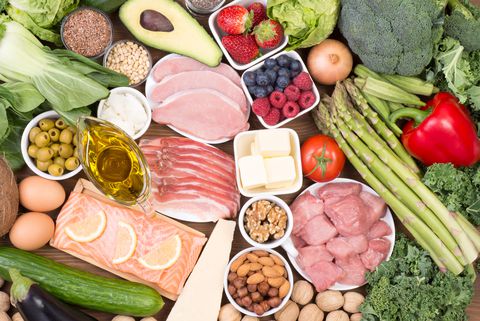 23 Jun

Stock Your Kitchen With Keto Staple Foods

If you're used to eating carb-heavy foods, like bread and pasta, or often rely on take-out, it can be challenging to switch to a ketogenic diet plan. Most folks who decide to go keto quickly realize that it requires a complete lifestyle upgrade. Many also find that they need a bit of an adjustment period before settling into this new way of eating and living. But with proper meal prep for the Keto Diet, it is much easier to keep up with the keto lifestyle—and to resist those pesky cravings that tend to happen during the adjustment period.

Planning ahead and being prepared helps you avoid exhausting decision making throughout the week, and saves you time and money. Not to mention, it helps you avoid getting HANGRY!

We've done some of the work for you, and have come up with five ways to meal prep for the Keto Diet, so you can set yourself up for success!

Stock Your Kitchen With Keto Staple Foods

Stocking your kitchen with keto-legal staples is the first step of any meal prep for the Keto Diet. It makes life so much easier when you have everything you need for the Keto Diet right in your own kitchen. This allows you to throw quick and easy meals together, grab quick go-to snacks—and it gives you peace of mind.

If you are unsure of which foods are high in carbs, you can use Self Nutrition Data to look up the nutritional profiles of lots of different foods.

Here are a few of our favorite basic keto foods to always have on hand:

Meat And Low-Carb Veggies

Steak and potatoes are classic American staple foods. Skip the potatoes, and add some leafy greens instead and you have yourself a great foundation for the Keto Diet. Stock your freezer with:
fatty cuts of meat
salmon, sardines, mackerel and other fatty fish
poultry
Non-starchy vegetables, like leafy greens and cruciferous vegetables, are low in carbs, so fill your fridge with as many as you can eat over the course of a week. Remember that plants contain non-soluble fiber, which your body doesn't digest and absorb like other carbs, so look at the amount of soluble fiber when you figure out your net carbs (total carbs minus insoluble fiber). We like:
kale
spinach
collard greens
Swiss chard
cabbage
broccoli
cauliflower
Brussels sprouts
asparagus
fresh herbs like cilantro, parsley, and basil
scallions, garlic and shallots
Dairy And Eggs
Dairy and eggs are also must-haves while transitioning to a ketogenic lifestyle. They are great sources of healthy fats and some protein. If possible, always purchase high quality full fat dairy products to add to recipes and drinks. Some musts when you meal prep for the Keto Diet:
eggs
butter and/or ghee
cream cheese
cottage cheese
your favorite cheese
plain full fat yogurt
heavy whipping cream
Berries
While most fruits are high in carbs, and therefore off limits or extremely limited on the Keto Diet, a few different berries are okay in small amounts.
raspberries
blackberries
blueberries
strawberries
Seeds, Nuts And Nut Butters
Nuts and seeds are a good source of both fat and protein. But eat them in moderation.
almonds and almond butter
cashews and cashew butter
sunflower seeds and sunbutter
pumpkin seeds
pecans
macadamia nuts
brazil nuts
Keto Friendly Flours
Having these flours on hand can make baking keto style a lot easier. You can find good quality finely ground almond and coconut flours in the baking section of most health food stores. As with the nuts and seeds above, use in moderation.
almond flour
coconut flour
MCT Oil And Powder
Always have a good source of trusted MCT oil and powder on hand, such as our own Guy Gone Keto MCT Oil.
Coconut Products
It's always a good idea to have high quality organic extra virgin coconut oil available for baking, sautéing, and for adding to Keto coffee or tea drinks. The following coconut products are also great ways to add fat to your diet:
full fat coconut milk
coconut butter
shredded coconut or coconut smiles
Keto Approved Sweeteners
It is very helpful to have keto-approved sweeteners around. They can be added to ketogenic baked goods, teas, coffees or other drinks. They offer great support when dealing with sugar cravings. Try some of the following keto-legal sweeteners:
stevia
xylitol
erythritol
allulose
monk fruit
Avocado And Avocado Oil
We really like having ripe avocados on hand. You can buy them in bulk at places like Costco and refrigerate them as they ripen. Use them in smoothies, salad dressings, lettuce wraps, green salads or as a snack sprinkled with sea salt and lemon. Or stuff them with some smoked salmon and an egg, and bake them in the oven! Yum!
We also like keeping avocado oil on hand for drizzling on steamed leafy greens and making our own salad dressings.
Condiments
Keto approved condiments can all help you make the adjustment to a Keto lifestyle without sacrificing flavor. We love:
avocado oil or coconut oil mayonnaise
sugar free mustard
sugar free hot sauce
red wine vinegar
apple cider vinegar
olives, olive oil and olive tapenade
lemon and lime juice
And yes, can we plug our very own Guy Gone Keto line of condiments?
Spices And Herbs
Be sure to have your favorite spices and herbs available. This will make things like batch cooking and last minute meals easier to throw together. Some of our favorite seasonings that we use to meal prep for the Keto Diet are:
cayenne
chili powder
cinnamon
cumin
rosemary
thyme
Broths
Store bought or homemade stocks and broths are great to have around. They make it easy to make a quick meal by adding veggies, meat and MCT oil. A cup of bone broth can provide great morning energy when consumed for breakfast.
Try egg drop soup in the morning!