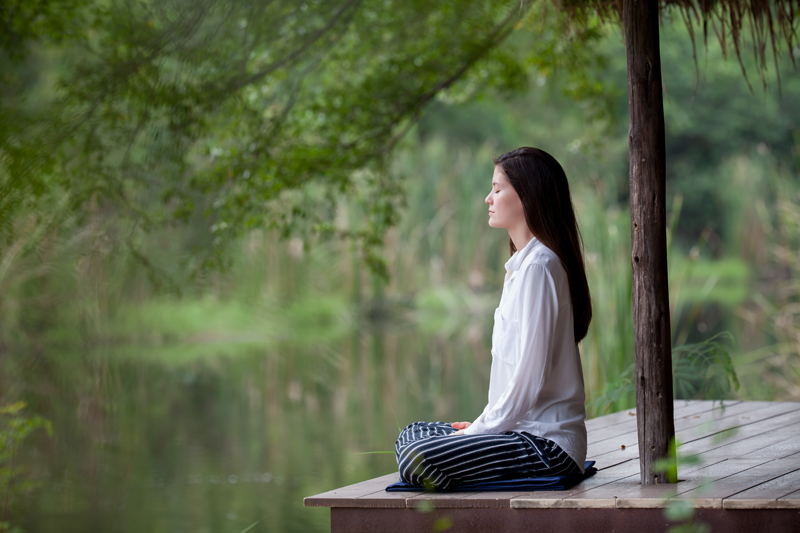 04 May

Meditate Your Way To Good Health

"One hour of meditation equals four hours of sleep"

I hesitate to use the word meditation. To me, as well as many others, the word "meditation" conjures up the picture of a bearded man sitting cross-legged in front of an entrance to a cave or high on a mountain top. Climbing the mountain and reaching him is part of the arduous journey toward self-fulfillment, self-improvement. Once we find him we ask, "What is the meaning of life?" or "How do we achieve peace in ourselves and our lives?" This all-knowing man tells us the answers are "inside ourselves" and tells us to go and contemplate. I don't know if that answer was worth the journey!

Well, I am not a wise man on a mountain. I am just like you — involved in life and work, seeking more serenity and calm in my life. I am still learning but I am finding that it is really helping me balance my life.

Research has shown that meditation can contribute to your physiological as well as your psychological and well-being. This is accomplished because meditation brings your brainwave pattern into an alpha state, which is the level at which healing begins.

Here are some of the benefits you can expect.

Physiological Benefits

Deep rest-as measured by decreased metabolic rate, lower heart rate, and reduced work load of the heart.
Lowered levels of cortisol and lactate-two chemicals associated with stress.
Reduction of free radicals- unstable oxygen molecules that can cause tissue damage.
Decreased high blood pressure.
Higher skin resistance. Low skin resistance is correlated with higher stress and anxiety levels.
Drop in cholesterol levels. High cholesterol is associated with cardiovascular disease.
Improved flow of air to the lungs resulting in easier breathing. This has been very helpful to asthma patients.
Decreases the ageing process.

Psychological Benefits

Greater creativity.
Decreased anxiety.
Decreased depression
Decreased irritability and moodiness
Improved learning ability and memory.
Increased feelings of vitality and rejuvenation.
Increased happiness.
Increased emotional stability.
Meditation is very easy. I suggest you start with a breathing meditation. Sit with your eyes partially closed and turn your attention to your breathing. Breath naturally, preferably through the nostrils, without attempting to control your breath, and try to become aware of the sensation of the breath as it enters and leaves the nostrils. This sensation is your object of meditation. Concentrate on your breathing until everything else seems to fade way. Continue this for 20 minutes.

I think you will notice a big difference. Especially if you continue doing it daily.

Thank you for your patronage.

Have an excellent day.

Thom King
President
thom.king@steviva.com
Steviva Brands, Inc.