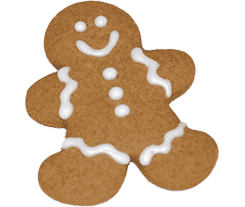 13 Oct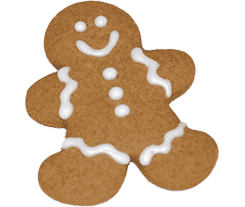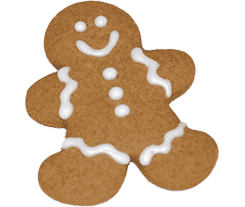 Directions
Cookie Directions:
Preheat oven to 350ºF.
Line 2 large baking sheets with parchment paper or lightly greased.
Sift all dry ingredients except the sweetener together and set aside.
Cream butter (or coconut oil) and Fructevia, Steviva Blend or a dash of StevivaSweet, beating on high speed for 3-5 minutes until light and fluffy.
Add molasses and vanilla and beat until combined.
Slowly add dry, sifted ingredients to butter mixture and beat just until a stiff dough forms.
Place dough between 2 sheets of plastic wrap lightly dusted with flour. Roll out to 1/8 inch thick.
Dip gingerbread cookie cutter in flour and cut out gingerbread men. Use a flour-dusted spatula to transfer cookies to baking sheet.
If the dough gets too soft while you are working with it, place it in the freezer for a few minutes until it stiffens up.
Bake for 10 minutes in preheated oven, or until cookies are firm to the touch.
Cool and decorate with the following icing recipe.
Icing Directions:
Beat egg white (or substitute) and lemon juice until foamy and then slowly add Fructevia, Steviva Blend (or a dash of StevivaSweet).
Beat until stiff peaks form.
Keep covered with a damp paper towel until you are ready to use it.
Cut a small hole in corner of baggie.
Fill it with icing.
Use it to decorate the gingerbread men.
You can use tiny pieces of dried fruit for features.
Gluten Free Reduced Sugar Gingerbread Men
October 13, 2016
Gingerbread men are men of distinction and good taste. They always appear to be cheerful thus they bring cheer to all who eat them. But, here's the deal; gingerbread men are sweet which means they must have a lot of sugar, right? Hang on a minute, we have cut the sugar way back with the exception of a little molasses that metabolizes rather slowly. That means you can have one or two of these without getting as big as a gingerbread house! Try this recipe out and you will be the hit of the holiday party. You can even go Vegan and Gluten Free with this.
Prep: 20 mins
Cook: 20 mins
Yields: 18 cookies
Ingredients
Cookie Ingredients:
1 cup brown rice flour (or 1 cup of whole grain flour instead of rice flour and almond meal)
1/4 cup dark, unsulfered molasses
1/4 cup Fructevia, Steviva Blend (or a dash of StevivaSweet)
1/4 cup softened butter (vegan option: 1/4 coconut oil)
Icing Ingredients:
1/2 cup Fructevia, Steviva Blend (or a dash of StevivaSweet)